With growing popularity of electronic cigarettes, the e-juice earns more and more demand in the vaping world. You may hear different names of it: "E-liquid", "Vape Juice" or "E-juice" and yet all of them describe one same thing. Let us consider in more detail what is e-juice and what it is used for.
E-juice is a solution designed for filling electronic cigarettes and vaporizers. When heated, this solution produces steam which you inhale. It takes from 200 to 400 Fahrenheit degrees to turn the liquid into vapor. E-juice is made with or without nicotine, meeting the personal preferences of e-cigarette owners.
What are the ingredients in vape juice without nicotine and the ones containing it?
E-juice actually is a mix of water, food flavorings, vegetable glycerin, propylene glycol and nicotine (different levels of strength to choose). Vape juice without nicotine has the same mixture of components, excluding only the nicotine itself.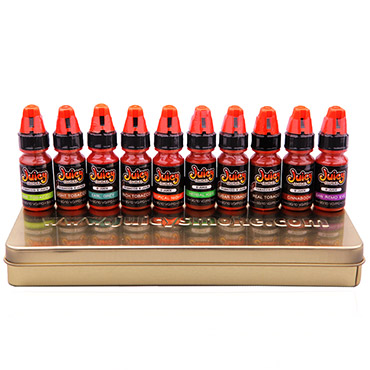 Many question themselves if a nicotine free vape juice is safe. Medical researches say that e-cigarettes are generally a healthier alternative to classic cigarettes. Neither of us can claim yet that we know everything about safety of e-cigarettes, though the ingredients which are contained in e-liquids are pretty simple and and common used:
Food flavorings are basically the flavorings that are used in foods, so they are safe to consume.
Vegetable Glycerin is a natural substance that is made from plant oils, typically from soy, palm or coconut oil. Glycerin is thick and odorless, though it is very sweet. It is produced in many fruits, vegetables and dairy products, so it's safe to consume.
Propylene glycol is a synthetic substance and is clear, odorless and slightly sirupy. Glycol is a good solvent for flavors and can be heated to produce steam. The CDC states that Propylene Glycol is considered a safe chemical.
Nicotine, if you decide is to be present in your juice. We all know how addictive nicotine is and how dangerous it is to inhale smoke. However, the studies have shown that nicotine does not bring any harm if consumed in a pure form. Moreover, it turns out that nicotine may have some health benefits, among which is prevention of Alzheimer's disease and help to increase level of concentration.
However, there are three dangerous vape juice ingredients each of us would better avoid. These are Diacetyl, Acetoin and Acetyl Propionyl. Diacetyl is a chemical used to enhance the buttery taste and sweet flavors. If inhaled in large amounts, is can produce Bronchiolitis obliterans, a bad disease that workers of a popcorn factory were suffering in 2002, where Diacetyl was used. Acetoin and Acetyl Propionyl are the substitutes of Diacetyl, being considered safer alternatives, though are still potentially harmful because of having similar chemical composition to Diacetyl and being lung irritators.
Nowadays the vaping market has a very large selection of e-juices with different flavors, components and PG/VG ratio. Despite this, there are many vapers who like to make juices for their e-cigarettes by themselves. Yes, this is possible and easy to accomplish right at home! There are many diy e-liquid suppliers who offer vape juice ingredients for sale in order to help you to get a one of a kind vaping experience.
If you are new to vaping and mixing, this will not prevent you from creating a juice that will satisfy your needs. There are many online stores that offer diy e-juice starter kit, that includes a number of flavors of your choice, base, syringes, pipettes, gloves - in a word a small lab to create a perfect flavor that you are sure in.
There are many ways to get a great vaping experience, and whatever you choose, - having a nicotine or nicotine free juice, making it at home by yourself or buying a ready one, - enjoy it!